Dina & Ryan had an absolutely FABULOUS wedding at the Whispering Horse Farm in Middletown, DE. Ryan's Aunt Dian owns the farm and was gracious enough to host the wedding there. Dina came to me on the recommendation of one of her bridesmaids, Jessica Peace. Jess is a fellow photographer I met 2 years ago in a wedding seminar class. It's always an honor to be referred by fellow photographers! As photographers, we're always more critical of each others work than our clients usually are, so it really means something to get a referral from another photographer. Thanks, Jess!!
I love, love, LOVE the colors of this wedding. Browns, Creams and Golds just make for a wonderfully classy event. Ramone's did an awesome job on the flowers and Cannon's made a beautiful (and tasty!) cake, as usual. Vic Enos, of Accent Entertainment was the DJ for the evening and Martin's Video provided videography…both were a true pleasure to work with.
Well enough chatter from me….on to the pics!!
Dina's rings were different from the norm and I absolutely love them!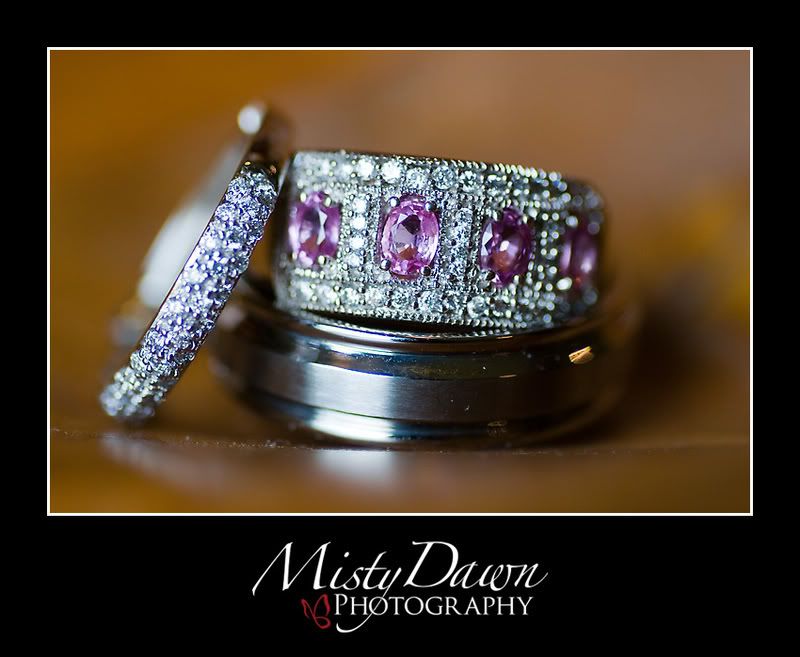 Gorgeous Gown
Spectacular Shoes!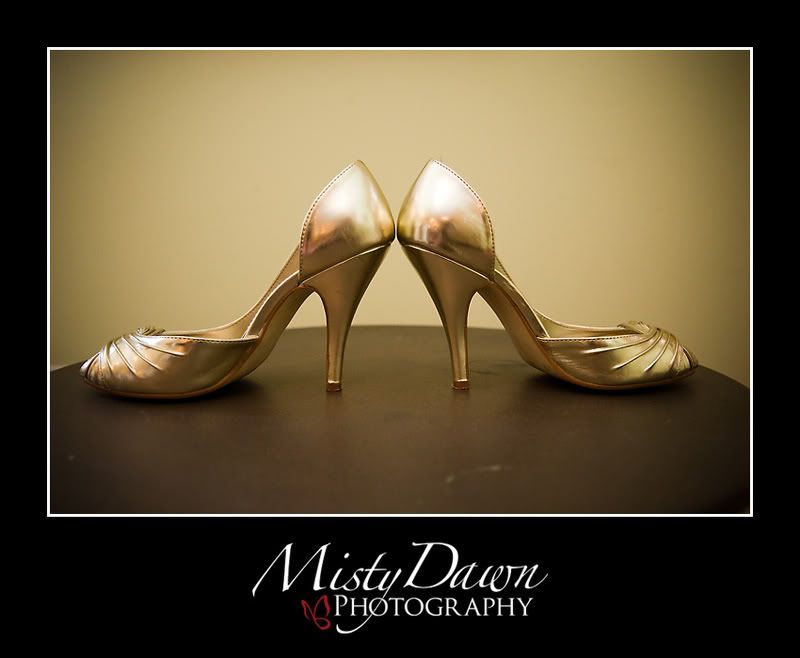 I don't know what those purplish-brown flowers are but they
really made Dina's bouquet beautiful.
Getting Ready…
Lots of helping hands!
The Bride gets a little emotional as her wedding day suddenly sinks in.
"Macho Macho Man…" Ryan goofing off LOL.

The [Short] Ceremony…
Dina's Dad walks her down the aisle
Some Portraits….
Dina was sooooo stunning on her wedding day!
All of the girls looked amazing! I LOVE their dresses!!
…and where do you think YOU'RE going???
Dina really wanted to get a shot of them in the Adirondack chairs,
and I thought it was a fabulous idea! It was, wasn't it?!
No MDP post is complete without some fisheye action.

This is one of my fav pix from their day!
This is where it pays to have a 2nd shooter, guys! My awesome 2nd, Christy,
grabbed this while I was shooting the pix above.
The Mr. and Mrs.!


Normally I don't post this many portraits from a wedding,
but I just couldn't help it with these guys!
This photo seems so timeless and classy to me, I just love it!
Dina was one smokin' hot bride! Gorgeous, girl!
Sooooo sweet….their daughter Charlie was looking up
at them while they kissed.
The reception…
An enthusiastic entrance into the reception!
Dina is gonna KILL me for this one, but I had to. hehe
It was one hell of a party!
Thanks, Dina & Ryan, for inviting me to share your amazing day and to allow me to document it for you. It was truly a privilege and an honor to capture your memories!